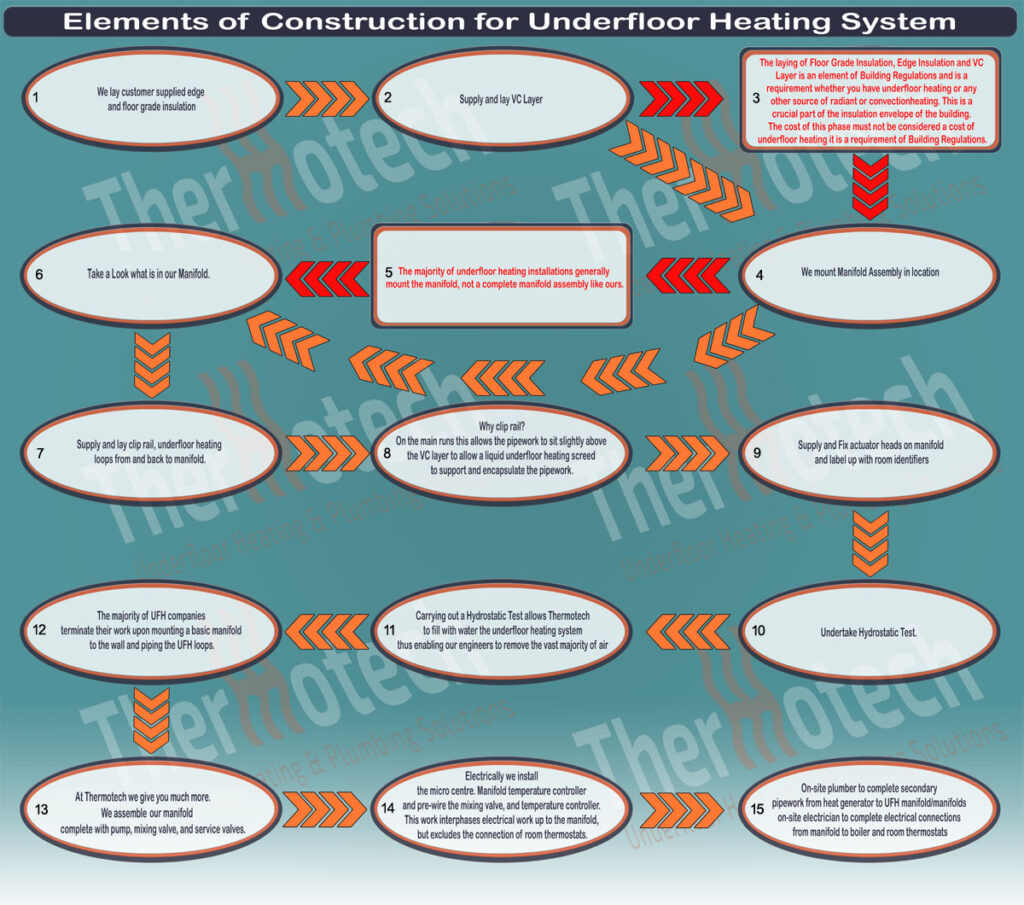 Elements of construction for underfloor heating system
1. We lay customer supplied edge and floor grade insulation.
2. Supply and lay VC Layer.
3. The laying of Floor Grade Insulation, Edge Insulation and VC Layer is an element of Building Regulations and is a requirement whether you have underfloor heating or any other source of radiant or convection heating. This is a crucial part of the insulation envelope of the building. The cost of this phase must not be considered a cost of underfloor heating it is a requirement of Building Regulations.
4. We mount Manifold Assembly in location.
5. The majority of underfloor heating installations generally mount the manifold, not a complete manifold assembly like ours.
6. Take a Look what is in our Manifold click HERE to see in detail .
7. Supply and lay clip rail, underfloor heating loops from and back to manifold.
8. Why clip rail? On the main runs this allows the pipework to sit slightly above the VC layer to allow a liquid underfloor heating screed to support and encapsulate the pipework.
9. Supply and Fix actuator heads on manifold and label up with room identifiers (9)
10. Undertake Hydrostatic Test.
11. Carrying out a Hydrostatic Test allows Thermotech to fill with water the underfloor heating system, thus enabling our engineers to remove the vast majority of air.
12. The majority of UFH companies terminate their work upon mounting a basic manifold to the wall and piping the UFH loops.
13. At Thermotech we give you much more. We assemble our manifold complete with pump, mixing valve and service valves.
14. Electrically we install the micro centre, manifold temperature controller and pre-wire the mixing valve and temperature controller. This work interphases electrical work up to the manifold, but excludes the connection of room thermostats.
15. On-site plumber to complete secondary pipework from heat generator to UFH manifold/manifolds and on-site electrician to complete electrical connections from manifold to boiler and room thermostats.